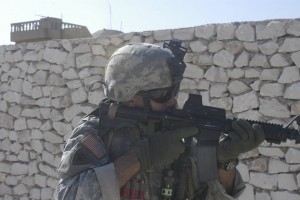 SFC Jeff Prior- Oct 2005, Badimnah Iraq
I was raised in a Catholic home and enjoyed a wonderful childhood with loving parents and a good, solid family. Upon completion of high school, the US Army became my obsession for more than 20 years. Just like the old commercials used to say – "Be All That You Can Be".  That wasn't enough. My path was started; becoming the best was what I had to do. Pride, masked by duty, honor, and country, drove me to excellence. I was highly trained, in peak physical condition, shot straighter and could go farther than most. I loved the Infantry and the Infantry loved me. Everything else took a back seat to the service of my country – including God and family.  Completion of the mission was non-negotiable.
Along the way, I married a woman who had affairs while I was overseas. She eventually left me in 1998 after having a child that wasn't mine. This hurt, but wasn't enough to change the direction I was following. My military duty slowed for a while and I applied what I had learned to civilian education and work. Successes came pretty easy. I met up with my lifelong friend, Robin, and we were married in 2000.
9/11 affected me greatly and brought me back to military service. From October 2001 to June 2006, I was gone- serving a string of back to back missions – home long enough to father our two children – and gone again.
Headstrong and proud, I took the "varsity team" to Iraq in which we prosecuted high intensity combat and exacted much vengeance on our adversary. The violence, death, injuries, and speed at which things happened proved absolutely incredible… Way too much for my pride to handle.
In June of 2006, I returned to the states with my own injuries and bound for retirement. Guilt, pain, sadness, and anger led me down a bitter, troublesome road. Dealing with the most heinous cruelties man can wage tipped me over my breaking point. I was so mad at God for letting what had happened during the war. I blamed Him for all the mistakes He made. Little had I known just how much my family had prayed to keep me safe and how much pain and anxiety they felt. I never thanked Him.
The Army doctors did what they could for me, but I would never be restored to the man or condition I was once in. I hated everyone. Everything I did reminded me of the war, and of the broken, lifeless bodies of my friends and enemies. This had become my rock bottom.
At the urging of my family, we started attending services at what is now the "Mountainview Baptist Church" of Custer. Slowly, my ears and heart began to open to the message of the Gospel. Romans 8:28 says, "And we know that all things work together for good to them that love God, to them who are the called according to his purpose". This verse stuck in my head and I argued with God. "How can all this have been for good?", I asked… All the suffering and dying…
Finally, on a Sunday morning, I couldn't argue the question any longer, and I begged for forgiveness in tears and rejected my pride. I asked Jesus to take away this burden and to wipe my slate clean. My heart needed to know how so much bad could work for good. I was a sinner, and just couldn't make it on my own, anymore.
Since my Salvation, God is working hard on me. As one grows in Christ, priorities change… and though I'm still a sinner, He reminds me daily that He's there to help me through. I thank God every day for putting me through the trials He made for me. In humbling myself before God, a fool who deserved nothing– has received so much!  My daily walk with Christ is building a man, a husband, and a father that I am truly grateful to be.
~Jeff Prior
For more information on "how" to know what Jeff has found…

Click on "The Bible Way to Heaven" or return to the Home page.