Several years ago, "Matt" (one of our church members, dressed in a gorilla costume) was working at our church's annual "Gospel Booth" (the place where we give both tourists & locals the gospel, free cookies & lemonade– and, they can stick a pin in our map to tell us where they are from)… Anyway, our theme that year was "Creation vs. Evolution" and we were handing out copies of a Creation DVD.  Well, Cassandra was given a free DVD by "Matt the Gorilla". She took it home and began watching & studying the issue…
Then, in the summer of 2013, "Ed" and "Tom" (two other men from our church) were working with Cassandra at the "Flintstones Campground" in Custer. They were talking with Cassandra about Dinosaurs, Creation, & Evolution… Cassandra mentioned to Ed & Tom that there was a "gorilla" that gave her a DVD a few years ago, and she really learned a lot about Creation… Ed told Cassandra, "…I know that gorilla, he goes to my church…"  Ed invited Cassandra to come to church, and, finally, in November of 2013, Cassandra came to church with Ed, and a few weeks later, Cassandra got saved!!!
Then, by 2014, Cassandra was also volunteering her time, down at the "Gospel Booth" — helping others "stick a pin in the map", and giving them the gospel, as well… (sigh)… who says it ain't fun being a born-again Christian — helping others to find the WAY, the TRUTH, and the LIFE!!!!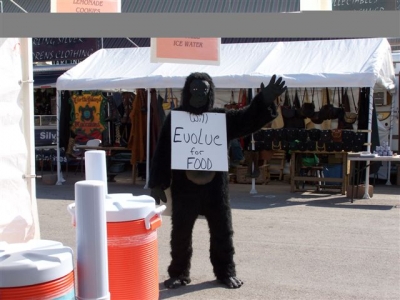 "Matt the Gorilla"