Welcome to Mountainview Baptist Church
Hello, and thank you for visiting our website!
Mountainview Baptist Church is a local, independent, Bible-believing, Baptist church serving the people of Custer, South Dakota, and the surrounding area.
We invite you to be our special guest, and we trust you will feel at home during your visit. If you have any questions, or, if we can be of help to you, please call the church office at (605) 673-2498 or email us.  Again, thanks for visiting our website, and be sure to come back soon!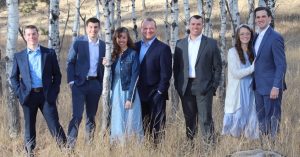 Pastor & Mrs. Furse (& family)
Be sure to view some Videos of our Church family!
At Mountainview Baptist Church there are many different ways for
everyone to be a part of serving the Lord!
Preaching – this is the center of our ministry.  We use the King James Version in all our services.  We believe the preaching of the Word of God is the only thing that will change lives and encourage Christians in their walk with God.
Soul Winning & Visitation – Visiting folks and sharing the gospel of Jesus Christ, with words of encouragement and a smile. Maybe the most important area in serving God.
Discipleship & Training – Helping new believers to grow in their understanding of things of Christ.
Music Ministry – Choir and special music, Children's Programs (Easter,VBS,Christmas, etc.), and children's choir.
Childrens Ministries – Nursery (for those who like a challenge), Anchor Club, Junior Church, Youth Group, Vacation Bible School, & Summer Bible Camps.

Youth Group – Our older youth (teens) meet every Sunday night.
Anchor Club – Our Children's Bible Club also meets every Wednesday night, during the school year. (similar to AWANA clubs)
Vacation Bible School – Our annual VBS is a highlight of our church! VBS week is around the first part of June every year.
Sunday School – Sunday School classes/teachers for all age groups.
Van Route – Van Route leaders and Sunday School teachers visit & participate in the lives of our van riders.

Nursing Home Services – Bringing the Word of God to those folks who are unable to come to church. Regular services at local nursing homes.
H.O.P.E. – 4 – Addictions ministry ~ "Helping Others Put off Entanglements"
Scripture Collating – Putting together Scriptures for free distribution around the world.
World Missions – Every member is encouraged to participate in the support of world-wide missons.
     Matthew 5:16 ~ "Let your light so shine before men, that they may see your good works, and glorify your Father which is in heaven."
Click this link to find:
---