How I Got a New Heart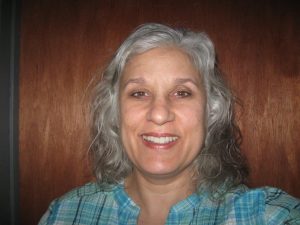 The only time I went to church as a child was when a neighbor picked me up for Vacation Bible School.  I also remember going occasionally with my grandparents. But, I didn't know much about Jesus. As a young adult I went to church on Christmas and Easter, but I still lived a very sinful life.
During my late twenties, I began attending churches more often, and that is how I got baptized the first time. I had taken communion without being baptized, and the pastor said that I should be baptized before taking communion… So, I got "baptized"…but, I was still the same "me".
But then, in August of 2009, I started attending a Baptist church in Eastern South Dakota, with my husband. This was the first time I had ever heard a "salvation message" during a church service. The question was asked, "If you died today, would you go the heaven?"  By this time, I had faithfully gone to church every Sunday for years, unless I was working, and had never heard that before. I really did not know if I was going to heaven, and I couldn't believe that I had never been asked about this at any other church. I had never really read the Bible, and whenever I tried, I couldn't understand what it said and usually fell asleep. But, we kept going to this Baptist church. The thought of going to hell kept nagging at me. I honestly did not know if I would go to heaven.  I kept hearing these messages that told me that Jesus died for my sins, but without Him, I was an unforgiven sinner, going straight to hell. All I needed to do was admit that I was a sinner and to believe that Jesus Christ was crucified on the cross for my sins.  He took the punishment of my sin upon himself.
Here, I had been trying to become a better person by not swearing or doing good deeds. We had even determined to homeschool our kids—but that doesn't make someone a Christian! (I had even started an audio CD ministry for shut-ins, and visited people weekly with a CD of the past Sunday's sermon.) But, as I learned what the Bible said, I realized that all the good things that I was doing were not going to get me into heaven. Isaiah 64:6 says my "righteousness" is as filthy rags.
Finally, one Sunday, in September 2009, I got saved! I didn't say one word to anyone— but cried out to Jesus.  He knew what was in my heart as I admitted to Him that I was a sinner and needed Him as my Savior. He heard my prayer and saved me that day.  After reading the Bible some more, I realized that my original "baptism" was without faith– but now that I was trusting in Jesus, I should be baptized to publicly declare my faith, and to start living my new life as a Christian. So, after finally understanding that my salvation was through Jesus—by believing on Him, alone—and not trusting in my own goodness—I was baptized the second time.
 "As it is written, there is none righteous, no not one." (Romans 3:10)
 "For all have sinned, and come short of the glory of God." (Romans 3:23)   
"For by grace are ye saved through faith; and that not of yourselves: it is the gift of God: Not of works, lest any man should boast." (Ephesians 2:8-9)
Before I was saved I had a heart of stone. I buried all my hurts, disappointments, and failures deep inside my heart. I was very unforgiving towards others who had hurt me, and yet thinking very little of how I had selfishly hurt others. After being saved, I also found that my priorities had changed. I had worked as a Registered Nurse for over 15 years and always identified myself as a nurse—before anything else. God put a new set of priorities in my heart—my husband and my children. As a teenager I told myself that I never wanted to rely on anyone, including my husband. I was going to take care of myself. But, I was given a new heart to submit to my husband's authority. I've learned that the husband is the head of the family, and how much smoother things go—when husband and wife are going in the same direction. As for my children, I realized I needed to cut down the hours that I was working and devote more time to them. Since moving to Custer last summer, I am now a full time stay-at-home-mother and I know this is where the Lord wants me to be.
I still get hurt and have disappointments, but I know that Jesus is there right beside me, helping me along the way. I now have a guide book to help me along life's highway—God's Word, the Bible. I don't have to go about life on my own. It still amazes me daily, how the Lord changed my heart and life!
"A new heart also will I give you, and a new spirit will I put within you: and I will take away the stony heart out of your flesh, and I will give you an heart of flesh." (Ezekiel 36:26)    
~ Deb Marshall
---